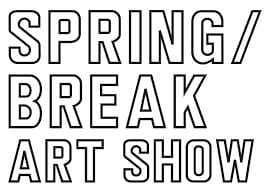 Cade Tompkins is pleased to announce Aaron Pexa, The Lucent Parlor, a multi-media installation at the cutting-edge and curator-driven SPRING/BREAK Art Show, with the theme of ⌘COPY⌘PASTE, during Armory Arts Week in New York City. Pexa's work will transform the powder rooms in the historic McKim, Mead & White Post Office building into a fantastic environment draped in pattern, dripping in glass and glowing with projection and candle light.
In his video work, the incandescent quality of light and the reflective effect of glass are captured in the fleeting moments when glass transforms from liquid to solid. The myriad of sculptural adornments in the space make use of 19th century mass production molds mixed with manual techniques to produce one-of-a-kind glass objects at once pristine but now fading with a fictional romantic history.
Pexa received his MFA in Glass from the Rhode Island School of Design in 2014. He holds a dual Masters in Architecture and Urban Design from Washington University in St. Louis, and Bachelors in Studio Art from Carleton College. In the summer of 2014, he received a travel grant from the Rhode Island School of Design to research glassmaking techniques along Finland's Glass Trail, and most recently was awarded a Chinese Government Scholarship at the China Academy of Art in Hangzhou to study Mandarin and promote cross-cultural exchange. He was a 2015 Fellow at the Creative Glass Institute of America at Wheaton Arts in Millville, New Jersey. The Lucent Parlor videos are in the permanent collection of the Museum of American Glass.