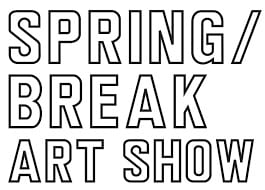 Booth W29
Cade Tompkins Projects is pleased to participate in SPRING/BREAK Art Show 2019 with a solo installation and exhibition of work by Serena Perrone entitled Out of the Fire. The 2019 theme of "Fact or Fiction" perfectly suits the works presented by Perrone which explore fact and fiction at an intersection of the mythic, the nostalgic and the real - as they shift from site-specific landscape to panoramic print, ceramic and printed peepshow to a hand-printed textile that adorns a chaise lounge.
Perrone has created a letterpress print which will be a gift for visitors to the exhibition. About the print Tutti dicono che la lana non brucia 2019: "Rampant wild fires are common in Sicily and are often the result of arson. People who set the fires often wait till the intense scirocco winds whip up from Africa and rip across the island. These destructive wind storms often last for 3 days and are accompanied by devastating fires. Many conspiracy theories arise about the origins of these fires each year, but one brutal and wide-spread rumor in response to the exceptionally intense fires of 2016 was that arsonists were setting animals like sheep on fire and releasing them to run through the flammable dried brush to spread the flames. This story is alluded to in one of the interior scenes of "Fata Morgana/Mondo Nuovo" in which a figure bears a torch and a flaming lamb runs through the brush of a mediterranean landscape. However, in truth wool is a naturally fire-resistant material. "Tutti dicono che la lana non brucia" translates to "everyone says wool doesn't burn", thus offering a contradiction to the widely-accepted story."
Highlights are the work entitled A Volcano Pilgrim in Exchange for Fire with images of active volcanoes located in Italy, Peru, Colombia, Nicaragua, Guatemala, Mexico, and Japan are paired with fragments of text culled from the travel blog of the late poet Craig Arnold in the days leading up to his death in April of 2009 in Japan, while hiking volcanoes and conducting research for his next book of poetry. The twenty prints in this series chronicle the twenty days on which he wrote during his Japan expedition and form a 25-foot long panorama of live active volcanos at the time of the artist making this work. For the first time, the companion work entitled Maintaining a Distance and Living to Tell is shown in tandem allowing for comparison of the two panoramas. Maintaining a Safe Distance and Living to Tell is a panoramic exploration of specific places and fantastic calamities, both natural and man-made. The locales of St. Louis, MO; Providence, RI; Philadelphia, PA; and Tusa, Sicily provide the frame for the fiery, wind-torn landscapes in the foreground in a brilliant coral red echoing the activity of Japanese Edo prints with human interaction against the all encompassing natural landscape which recedes in pale colors into the background.
Other works include a site-specific fantastical, silhouetted wall mural made specifically for the exhibit. A ceramic, watercolor, screen print illuminated peepshow Fata Morgana/ Mondo Nuovo 2016-17; a letterpress print Tutti dicono che la lana non brucia 2019; Trajectory 2017; an etching entitled Once this was a Roman Villa 2017; a photo-based transfer print In the Night Garden II (Diptych) 2015 and a 1930s chaise lounge with handprinted fabric Biwa on Chaise Lounge 2010.